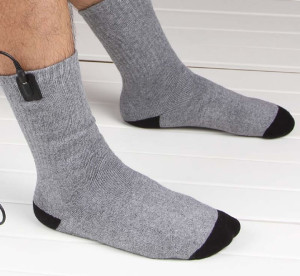 Electrically heated socks are a great way to keep your feet warm. They are used for a variety of different hobbies and lines of work, with many styles and models to choose from. When picking out an accessory to keep your feet warm, it is strongly recommended that care is taken while taking the vast models into consideration, as slight differences can make wearing them uncomfortable. While these differences are very slight, they cause huge changes depending on what you're using them for, such as thickness, durability, and material.
Some things to take into consideration when purchasing electrically heated socks are what you're going to be using them for, how long you're going to need them, and how much money you're willing to invest in a pair, as the twenty dollar pair you pick up from Walmart is not going to stack up to the hundred dollar pair you can purchase from a specialty store, depending on what you're going to use them for. If you're planning on using these on hour long hunting trips in the blizzard, you probably should spend your money on a pair that features a rechargeable battery, as carrying around some extra batteries could be rather annoying. However, on the flip side, if you're just planning on using them around the house, there are models out now that feature an AC adapter, so you can plug them into any wall socket, and enjoy the warmness the socks protrude.
As far as cost goes, if you're really counting on the product, go for quality, and spend the extra money, although cheaper models are relatively inexpensive, so they are replaceable for a low cost. Higher prices models now usually feature a temperature control, so if your feet are too warm, you can turn down the heat, or vice versa if needed. Also, different models may have different thicknesses. So, if the plan is to go hiking or mountain biking, you may want to choose a thinner style, depending on the conditions that you will be facing. The thinner styles are generally made from pure cotton, so they're still warm, but offer more flexibility than the thicker wool styles, which are great for being in the cold for hours on end.
One important thing to note about the socks, as they carry electronics, they are indeed washable. However, do not throw them into the washer with other clothes by any means. They need to be washed by hand, and hung dry, so the electronics do not get damaged. It is also recommended that an extra pair of socks is worn before putting the electronic heated sock, because the metal inside of the sock could potentially cause burns on the foot if they're worn for long periods of time.
All in all, if you're interested in keeping your feet warm in cold conditions, electronically heated socks work great. Please take consideration while looking at these, though they are great products, they are not for everyone. If you're looking to save a few bucks, an extra pair of wool socks may do you justice, but you may still feel the cold.